Fly to Bordeaux and learn french at Newdeal Institut
The city of Bordeaux is particularly well served thanks to its airport. Take the opportunity to come and learn French in Bordeaux and discover our beautiful Girondine capital..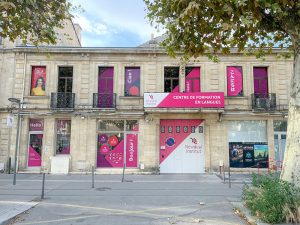 FRENCH IMMERSION
f you want to improve your French language skills or deepen your knowledge of French culture then you should join us at Newdeal Institut de Francais. People from across the globe come to our French school in order to experience total French immersion.
There is nothing stopping you from joining us for your French immersion journey, whether you live in Italy, Morocco or Ireland, Bordeaux Airport will be able to reach you.
INTERNATIONAL AIRPORT OF BORDEAUX
The airport of Bordeaux has three terminals that each serve their own specific purpose, Hall A, Hall B, and Billi Terminal. Hall A hosts the majority of all flights, Hall B hosts only Air France flights and Billi is dedicated to the budget airlines Ryanair and Easyjet. There are also two runways.
The airport has shown consistent growth over the past decade and in 2019 the airport handled 7.7 million and had 163 direct routes.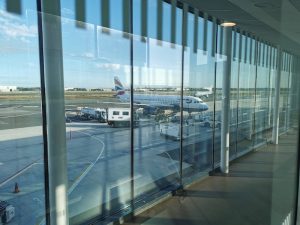 CONNECTIONS FROM ALL OVER THE WORLD
The airport in Bordeaux has a multitude of destinations that it directly serves, such as:
Algeria
Belgium
Czech Republic
Denmark
France
Paris

Brest

Lille

Lyon

Nice

Marseille

Strasbourg

Bastia

Ajaccio

Pointe-a-Pitre
Germany
Greece
Ireland
Italy
Rome

Florence

Venice

Bergamo

Treviso

Milan
Luxemburg
Morocco
Fez

Tangier

Casablanca

Marrakech

Essaouira

Agadir
Netherlands
Poland
Portugal
Spain
Barcelona

Madrid

Séville

Santiago de Compostela

Malaga

Tenerife

Fuerteventura

Lanzarote (Arrecife)
Switzerland
Turkey
Tunisia
United Kingdom
Manchester

Birmingham

London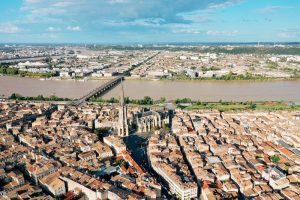 CONNECTIONS FROM ALL OVER THE WORLD
If your location does not have a direct link Bordeaux Airport has connections to major airports so there will certainly be a connecting flight. The airport also regularly adds new destinations to its roster. Due to all of these locations that the airport serves means that people from all around the world can come to Newdeal to study French or learn a new language, making Newdeal Institut a great place to interact with people from all different cultures and learn French together.